RELEASE DATE: June 15, 2022 —Last spring, wrapping up her 18th year teaching, Billi Bergman was wrung out and wondering if it was time to retire.
"Teaching through covid was, well, just wow," said the Meadow Lark second-grade teacher.  Even as she adjusted to remote teaching, her students struggled.  She didn't know if she had more to give, and she considered submitting her retirement letter.
A week before the deadline, something changed. Bergman was notified that a former kindergarten student of hers, Logan Corn, then a senior at C.M.R., had been named an Excellence in Education Distinguished Scholar by the Great Falls Public Schools Foundation.  In turn, he had named her as one of the two educators who most influenced his success.  From kindergarten!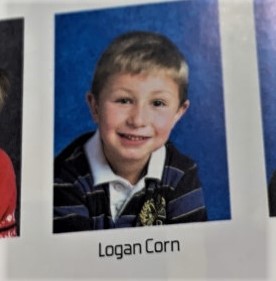 "Logan was a tough little nugget, but I loved him," she fondly recalled.  At the end of the year, his parents gave her a Calvin and Hobbes book about an impish 6-year-old and his stuffed tiger.  It was inscribed with a note thanking her for taking care of their Calvin.  She still has the book.  And Logan would drop by her class every few years to check in.
In his essay selecting Bergman, Corn wrote:  "Mrs. B was my kindergarten teacher.  I was a lot of trouble for her.  She always offered me words of encouragement.  I wasn't able to read until second grade and she motivated me to work harder in and out of school.  Without her I wouldn't be as successful as I am.  I am grateful for her."
"I thought to myself that this was why I went into teaching,"  Bergman said.  "It was like a higher being said I had more to give.  It clicked, and I came back this year with an attitude change."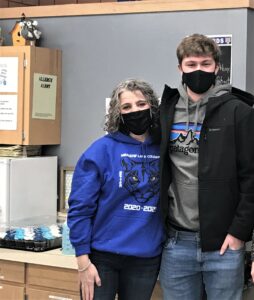 "This is the beauty of the Excellence in Education program," said GFPS Foundation Executive Director Stephanie Schneider.  "It allows students to not only celebrate their own success, but to also thank and recognize some of the teachers who got them there.  Sometimes a simple thank-you means everything."
Looking back on this school year, Bergman, a Great Falls native who attended schools here, said she found herself reenergized to teach. She was delighted to have students back in the classroom.  And she once again took up her special project of teaching kids to knit hats and stuffed animals. Now, after school on Mondays, former students are invited to her classroom for a social knitting session.
"I'm not ready to retire," she said.  "It's the kids, the connection with them.  They keep me going." Bergman shared that her daughter will soon carry on the tradition, when she begins teaching art this next school year.
Each year the Foundation's Excellence in Education program recognizes top achievers from each of the city's three public high schools.  Each student then selects two Distinguished Educators who provided them with meaningful mentoring and inspiration.  They are recognized in the Foundation's Annual Report and at the celebration event held in May.
To read more good news stories check out our monthly blog on our website (link) and follow us on Facebook.com/gfpsfoundation and @GFPSFoundation_foreducation.