CMR Students Jaclyn Kleinsasser and Kohle Schlehr recording at Cherry Creek Media – Photo credit Bejay Lindseth Cherry Creek Media.
RELEASE DATE: August 1, 2022 – It's Win This Truck Raffle season at the Great Falls Public Schools Foundation, and you're likely seeing TV ads and hearing radio spots boosting our efforts to sell raffle tickets for this popular fundraiser.
The money benefits Great Falls students in many ways, from classroom grants to new equipment and supplies for student clubs and athletic teams. While students greatly benefit from this fundraiser, they are also instrumental in promoting it.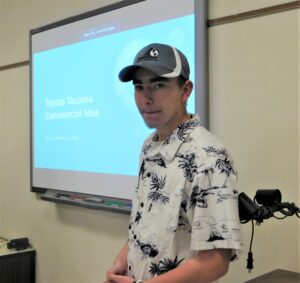 For years, high school video students have been involved in the production of paid service announcements (PSAs) on TV.
They generate ideas for the PSA commercials and present these concepts to a committee comprised of Foundation staff, PR committee members, and the Oakland family.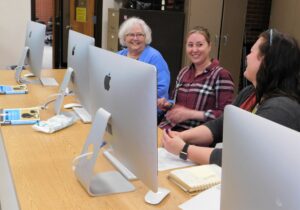 The committee then selects one or two concepts to move into production. This year, the committee selected one concept from Great Falls High (GFH) and one from CM Russell High (CMR). The preparation for the commercial begins with recruiting student actors to appear in the 30 second PSA spot.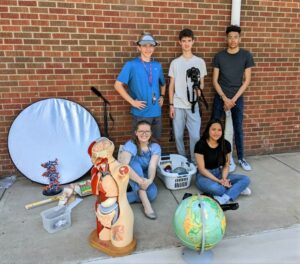 Once props and scripts are finalized, shooting the video can take up to four hours.
Students also contribute their vocal talents on our PSA radio announcements. CMR drama students jumped in to record these spots at STARadio and Cherry Creek Media. They read and recorded at the studios with the help of local radio professionals. "It was a pleasure working with the kids, they were a lot of fun," said Jimmy Wyze of Staradio.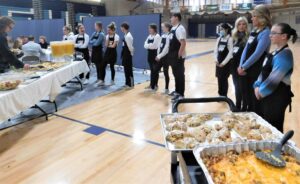 "Students have talents to offer, and the Foundation has the ability to give them real-world experiences that enhance their education," explains Stephanie Schnider, the Foundation's executive director. "We include students whenever we can.  They bring energy to our work, and we help expand their experience and resumes."
Student inclusion started when the Foundation began over a decade ago with a student designing the logo still used by the Foundation. Since then, students routinely provide artwork, videos and acting talent – especially for the annual truck raffle. Vocal and instrumental music students contribute entertainment for Foundation events.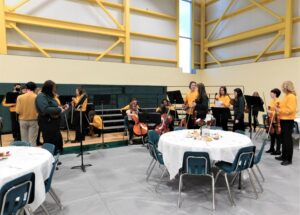 Likewise, family and consumer science students provide food and catering services to meetings and events.
Enjoy those TV and radio spots produced by young people in our community! (To see this year's TV PSA, click here).
The Win This Truck Raffle is made possible by the generous donation of a Toyota vehicle each year by City Motor Company and the Oakland family. A second-place prize of a $1,000 gift card is donated by North40 Outfitters.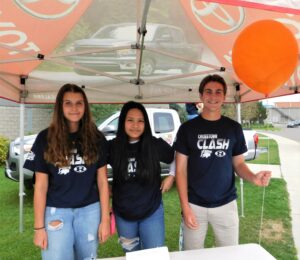 For every $10 ticket sold, $6 goes to the student organization selling the ticket and $4 goes to the Foundation for classroom grants. Since its launch in 2013, the raffle has raised more than $1.1 million to support Great Falls classrooms and programs.
To purchase a ticket online to win a new Toyota Tacoma truck (click here).  For updates on the raffle, follow the Great Falls Public Schools Foundation on Facebook. The winning ticket will be drawn during halftime entertainment at the crosstown football game on October 21st.