RELEASE DATE: November 7, 2023 – The Foundation marked the completion of the 11th year of the Win This Truck Raffle fundraiser last Thursday at City Motors. In addition to handing the keys of the Toyota Tacoma to winner Molly McLoughlin, the top-selling student groups and PTAs were also recognized for their hard work in selling tickets.
Thanks to 47 student groups and PTAs as well as eight business outlets throughout the community, the Win This Truck Raffle topped last year's ticket sales raising a total of $153,740. That makes 2023 the second highest fundraising year ever!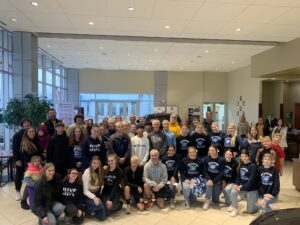 "This fundraiser has taken on a life of its own over the past decade," shared Great Falls Public Schools Foundation executive director Stephanie Becker. "Students, teachers and coaches have taken ownership, and the community steps up to meet them every year in their fundraising efforts. The results have been remarkable."
Student groups sell tickets for $10 each with $6 for every ticket going back to the selling group and the remaining $4 going to educator grants through the Foundation. That means that every dollar stays in the community to benefit Great Falls students and teachers. Grants support everything from field trips and new science equipment to sports gear.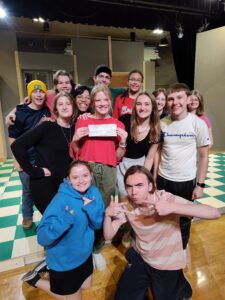 As is the tradition every year, the winning tickets were drawn and announced at halftime of the Crosstown football game. As the top-selling school group, CMR drama earned the privilege of pulling the winning tickets from the tumbler. They sold 1,372 tickets resulting in over $8,000 being directed to their program. These funds will go towards purchasing new microphones and props for their productions.
City Motor Company is the mainstay of this community fundraiser. Since the fundraiser began in 2013, the Oakland family and City Motors has donated over $310,000. Thankfully, the community has stepped forward to match their generosity by buying raffle tickets, resulting in over $1.4 million for education in Great Falls. Scheels has also joined in the partnership this year by donating the $1,000 giftcard for the second prize. The winner of the giftcard was Rachel Hollensead.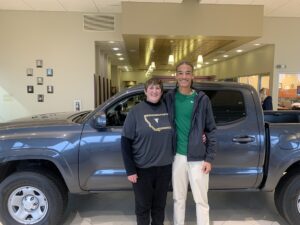 The GFPS Foundation is grateful to all the outlets, students, parents, teachers and coaches who have canvased the community selling tickets for this annual fundraiser. Without their help, this truck raffle would not be what it is today. Thanks also to the community members who bought tickets again this year and who are contributing to education in our community. You make a difference with every ticket you purchase!