Student & Teacher Recognition
The Foundation is proud to celebrate students, teachers and staff who excel in Great Falls schools. Their success is a testament both to their individual efforts and to the community commitment to public education.
Excellence In Education
This program recognizes top graduating seniors, selected by their principals, as Distinguished Scholars and Distinguished Achievers. These students then select the two teachers or educators who most inspired them and had a positive impact on their educational careers. The students and teachers are honored at a special recognition ceremony each May and in the Foundation's annual Excellence in Education publication.
Congratulations to These Distinguished Educators
At BNSF, we know investing in education is important. The future of our economy and our state depends on creating a skilled workforce, and we are committed to supporting schools and communities across Montana.
We are proud to partner with the Great Falls Public Schools Foundation in honoring these two outstanding educators with the Teacher of the Year Award. Each will receive $2,500 to use for continuing education or classroom enhancements.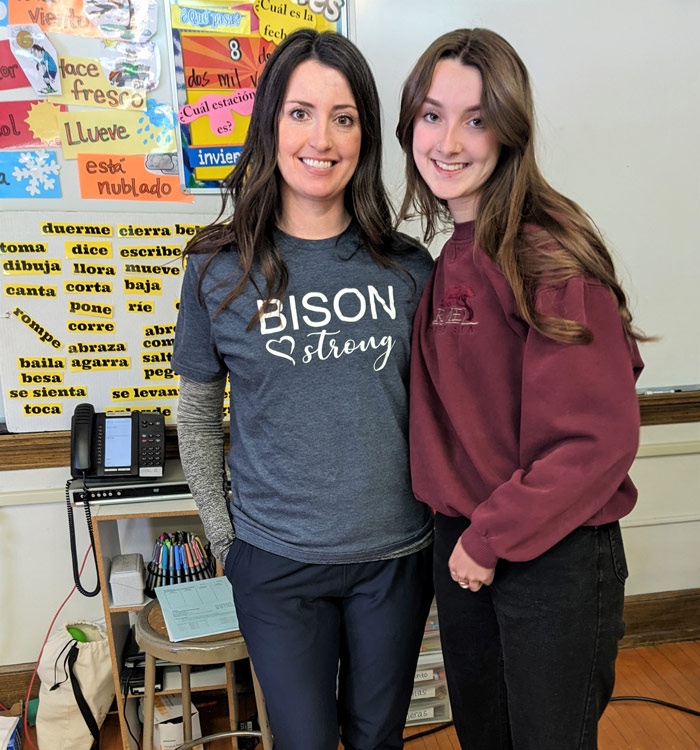 Lisa Frank
Spanish Teacher
Great Falls High School
According to Great Falls High Associate Principal Paul Culbertson, Franks' students are challenged to explore, experiment, and work at extending their thinking in fun and inventive ways. Her students gain knowledge of other cultures as well as language skills.

"The world language teachers, counselors, and staff at our school have appreciated the professionalism Lisa brings to Great Falls High," shared Culbertson. "She is capable of teaching students at all levels as she has demonstrated in her career by teaching 7th-12th grade classes. Her varied teaching methods are impressive."

A twenty-year educator and five-year Distinguished Educator, Frank will use the award money to further her education this summer. She will complete a 200-hour certification course on wellness and social emotional learning for the benefit of her students.

When asked about her teaching philosophy, Frank highlighted communication as the central underpinning of human connection and success. "Communication is the heart of the human spirit. When we communicate with words and actions, we connect with others and ourselves," she said. "These connections are powerful and ultimately lead us to success, both academically and personally."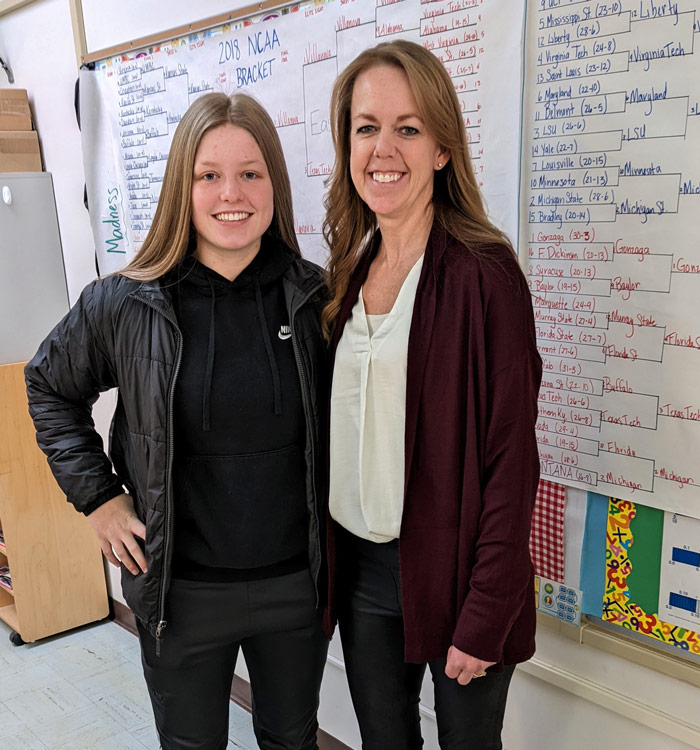 Stacie Skawinksi
6th Grade Teacher
Meadow Lark Elementary
"Mrs. Skawinski is one of the most dedicated, professional and dynamic teachers I have had the opportunity to work with," shared Associate Principal Ben Jacques. "She is masterful at making meaningful connections with students and families. She develops dynamic lessons that engage students, and make math meaningful. Stacie is a role model and mentor in the classroom and in the larger school environment."

Skawinski, a twenty-six-year educator with the district and two-time Distinguished Educator honoree, has a philosophy of education based on three fundamentals: belief that all children can learn to the highest level, belief that a positive relationship between a teacher and student affects their success, and an understanding of the importance of creating rigor and relevance in her instruction of students.

Skawinski will use the award money to purchase a robotics curriculum to use in her classroom. The program contains robots, along with activities and lesson plans.

"These robots will assist my students in learning fundamental STEAM concepts (Science, Technology, Engineering, Art and Math) and developing skills that are necessary for students to excel in our technology-rich 21st century," Skawinski shared.
Gold Star Award
Celebrate your child's teacher! A Gold Star Recognition Award honors a special teacher, administrator, or staff member for his or her dedication and above-and-beyond contribution to education. Parents, grandparents, or any community member may donate any amount to the GFPS Foundation in honor of GFPS employees they want honored. Each honoree receives a special Gold Star Award certificate, which is hand delivered by Foundation staff. Gold Star Awards are presented throughout the year but are most popular during holidays and the end of the school year as a way to thank educators.
339
Distinguished Scholars Selected
472
Excellence Teachers Recognized
148
Heisey Teacher Scholarship Recipients
Support The Future Of Education Through Community Leadership & Philanthropy
The Great Falls Public Schools Foundation partners with local business leaders and companies to make a difference in the lives of students. To discuss how your organization can help, contact the Foundation at (406) 268-6021 or [email protected].