GFPS Foundation Truck Raffle
Yearly City Motor Company donates a Toyota Tacoma to the GFPS Foundation to help in the "Win this Truck" fundraising raffle to enhance education. Ticket sales begin on July 1st and continue until the Crosstown Game each October. Tickets are $10 with a 60/40 split. Organizations receive $6 for every ticket they sell and the Foundation receives $4 which supports grant programs. The second place winner receives a $1,000 gift certificate donated by North40.
Web sales close Sunday, October 16. In-person sales are available at outlets and in the Foundation office till the drawing on October 21.
2022 Win This Truck Raffle Ticket Sellers
The 2022 list of Businesses and Groups will be updated regularly on our Facebook page (www.facebook.com/GFPSFoundation). $10 buys you a ticket to win. Below are last year's sellers.
ORGANIZATIONS:
Bison Family Scholarship
CMR Boys Soccer
CMR Cheer
CMR Cross Country
CMR Drama
CMR Football
CMR Girls Basketball
CMR Girls Soccer
CMR Golf
CMR HOSA
CMR Tennis
East Middle School Music
GFH Band
GFH Boys Basketball
GFH Boys Soccer
GFH BPA
GFH Cheer
GFH Cross Country
GFH Dance
GFH Football
GFH Girls Soccer
GFH Golf
GFH Speech and Debate
GFH Student Council
GFH Tennis
GFPS Preschool
Giant Springs PTA
Jake Arntson ScholarshipJMG
JROTC
Lewis & Clark Elementary
Lincoln PTA
Longfellow Elementary
Louise Hollar Clarke Scholarship
Meadow Lark PTA
Middle School DC Club
Morningside PTA
Mountain View PTA
North Middle School Music
Riverview PTA
Sacajawea PTA
Sunnyside PTA
Valley View PTA
West PTA
Bighorn Outdoor Specialists
City Motor Company
DA Davidson Companies
First Interstate Bank
GFPS Foundation
Hoglund's
MT Ink and Toner
BRAVERA
Schulte's
Torgerson's
Universal Athletic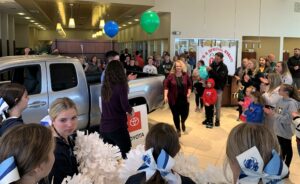 And The 2022 Win This Truck Raffle Winner is…
This year 14,940 Win This Truck raffle tickets were sold, raising $149,400, the second-highest-selling year ever! The winning prize tickets were drawn at the Crosstown Football Game on Oct. 21. Great Falls resident Tammy Dues, No. 14721, won the new Toyota Tacoma truck. She purchased her ticket from the Great Falls High School Golf.
Victoria Hunt, No. 21023 won the $1,000 North40 gift certificate. She purchased her ticket from CMR Cross Country.
Thank you to everyone who made this year's raffle a huge success.
The Foundation is immensely grateful to City Motors and the Oakland Family for continuing this program. The raffle began in 2013 and since that time has raised a total of $1,115,254.
The Foundation is a 501(c)(3) tax-exempt organization. Tax ID 27-2577990
​
Support The Future Of Education Through Community Leadership & Philanthropy
The Great Falls Public Schools Foundation partners with local business leaders and companies to make a difference in the lives of students. To discuss how your organization can help, contact the Foundation at (406) 268-6021 or [email protected].