RELEASE DATE: May 18, 2022 — When the Great Falls Public Schools Foundation wanted to share information about recent grant-sponsored projects with our donors and supporters, we turned to Great Falls High teacher Kelly Wiles and his students.
They created videos highlighting the positive impact that innovative classroom grants have on student learning. At the same time, the video students received real-world production and editing experience, along with feedback from an outside client.
""We are grateful to the Foundation for providing our students with opportunities to create real-world, professional work that can be shared online.  Media production students not only benefit by honing their career and technical skills, but they also get the chance to participate in a community service to promote the work of the Foundation, said Wiles.
Watch these videos to see all third graders get first-hand art experience and an entire school dive into reading one special book.
– Discovery Museum Tour Grant video: link
– Innovation Wishtree Book Grant video: link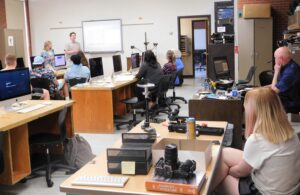 The Foundation routinely partners with student groups and classrooms to provide students with learning opportunities. Another example is the annual Win This Truck Raffle. Both Great Falls High and C.M. Russell video students prepare story-board presentations to vie for the privilege of producing television public service announcements. The official poster for the raffle is also produced by students.
"As teachers, we definitely aim to impart skills to help learners prepare for careers, but we also want to make sure the whole student is citizenship-ready; such projects allow them to both grow their talents and explore ways they can be a part of their community," Wiles shared.
The Foundation is grateful for the cooperation of teachers and the talent shared by so many students.
To learn more about teacher grants and how you can apply contact the GFPS Foundation.