RELEASE DATE: February 27, 2023 –Examined closely, side by side under a high-tech microscope, obvious differences emerge between two seemingly similar strands of hair.
These minute differences in cell structure, pattern and size often provide necessary evidence in the world of crime fighting and prosecution. They also now provide real-world forensic science experience to students at C.M. Russell High School.
This year the school received a state-of-the-art comparison microscope for use by 111 students in its four forensic science classes. It was provided by the Great Falls Public Schools Foundation fulfilling a Discovery Grant request by science teacher Jon Davis. For the 2022-2023 school year the Foundation provided $139,700 to fund 34 grants from 28 different educators.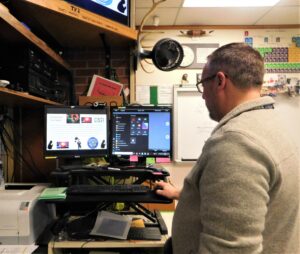 "The microscope essentially is two different but identical microscopes that show exact comparisons between two specimens," Davis said. The microscope not only is connected to a screen for the class to see, it also has in own Wi-Fi network. Students can download an app that connects to the microscope's camera to see slide comparisons themselves.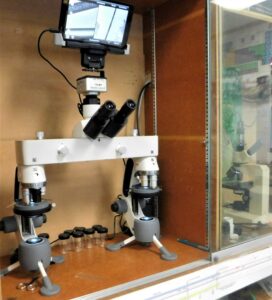 In a professional lab, a comparison microscope could cost anywhere from $30,000 to $100,000. Davis ordered a special one designed specifically for students that is closer to $2,500. He believes it may be the only such microscope in use by a Montana high school, and it's been a hit with students.
"This is a really cool class with lots of hands-on work examining all types of hair, blood, fibers and fingerprints," said senior Kylie Deiter, 17. "The microscope gives us exact comparisons … it's like bringing [the television show] CSI into the classroom."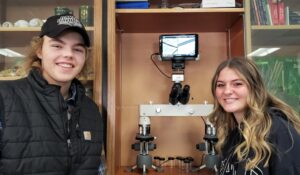 Carter Tuss, 17, a junior, speaks with enthusiasm about the different layers of hair – cuticle, medulla and cortex – and how they can be compared with the new microscope. "You can examine diameter and cell pattern and really understand the differences," he said.
While neither Deiter nor Tuss plan to become forensic scientists, they see a lot of value in what they're learning. "You have to use problem-solving skills to figure out how to do the work, and this class makes that interesting," Tuss said.
Davis says that while most of his students won't pursue careers in criminal justice, they are learning valuable critical-thinking skills that will serve them well in many settings. "This course just naturally lends itself to practical tests, and practical tests make kids solve problems," he said. "I'm hoping this course can make 111 students systematically and scientifically think their way through problems on their own."
"Teachers like Jon Davis help bring out the best in students," said Stephanie Schnider, executive director of the GFPS Foundation. "We are so happy to support his work and that of all teachers with our grant programs."
Since the Foundation started awarding grants in 2011, it has provided more than $1.1 million in funding for more than 337 grants. Much of the funding is provided by the annual truck raffle. For more information on the Foundation and its programs click here.