RELEASE DATE: January 12, 2023 – In the depth of December's deep freeze, Morningside kindergarten teacher Melody Stevens was warmed by a gesture from a former student.  Well, three former students, actually.
Mrs. Stevens was in her classroom when she received a Gold Star Award, presented by the Great Falls Public Schools Foundation.  Any parent or community member can send a Gold Star to a teacher as a token of gratitude or appreciation.  This one, however, was a bit different.
"Usually you get them from the parents of a current student,"  Mrs. Stevens said.  "This was a total surprise, coming from Jenna.  It truly meant a lot."
Jenna is Jenna Hayes, mother of East Middle School seventh-grader Lucas Hayes, 12, and Morningside third-grader Layla Hayes, 9.  Both children had Mrs. Stevens as a kindergarten teacher.  But mom, Jenna was also in Mrs. Stevens' class – back when she was in second grade and attended Morningside.
"She's been there for our whole family," Jenna said of the beloved teacher.  "I thought the Gold Star was a nice way to let her know we still think about her and appreciate all she's done for us."
Mrs. Stevens is in her 26th year teaching at Morningside  – 23 of them as a kindergarten teacher.  When Jenna Hayes was a student, she taught her as part of a second/third-grade combo class.  She has been around long enough to have taught two generations from several families.
"I guess that ages me a bit,"  she laughed.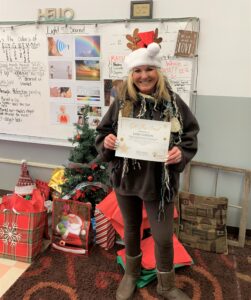 The Gold Star Award program was started in 2011 as a way for parents and others to show appreciation for educators and support staff.  They can send one to a special teacher, aide, lunch staff, custodian – any school district employee.  Simply donate any amount to the Foundation and fill out the form found here.  The Gold Star is then delivered along with a personal message from the sender to the teacher or staff member at school.  All funds raised return to schools in the form of classroom grants to teachers.
"Teachers and school staff constantly go above and beyond to help students," said Stephanie Schnider, GFPS Foundation executive director.  "A Gold Star is a special way to let them know just how much they're appreciated."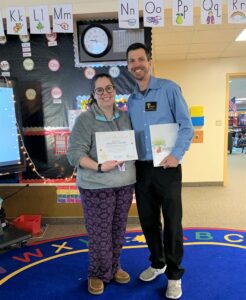 Over 100 Gold Stars were requested during the recent holiday season. Among them, a Gold Star given to 1st grade teacher Amanda Tharp at Mountain View Elementary. Kally Hasenkrug thanked Ms. Tharp for "providing a warm, kind, and loving classroom for your students. They are lucky to have you as a first-grade teacher."
5th Grade teacher Sharon Kelley at Sacajawea Elementary also received a Gold Star. "I know Sharon to have the most incredible classroom management, high academic expectations for all students, and a warm and caring disposition for kids." shared Barb Butcher.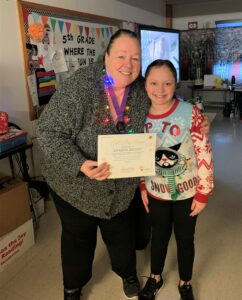 These examples provide a snapshot of the appreciation that is captured and delivered to teachers through the Gold Star Program. To learn more about Gold Star Awards and other programs offered by the GFPS Foundation, click here.