RELEASE DATE: March 27, 2023 – Great Falls students who participate in the Indigenous Club at both North and East Middle Schools are learning the basic techniques to create traditional Native American flute music. (Photo: North Middle School Indigenous Club)
The haunting melody of the handmade flute has been the backdrop to Indigenous life and ceremony spanning the Americas for more generations than is known. Many tribes and bands had their own version and their own music, though much of it was lost with the arrival of Europeans.
Today, the melodies are slowly, haltingly resurfacing with a new generation. Thanks to a special grant from Sisters United, a nonprofit founded by Candice English that supports Indigenous education programming, all middle school students have the opportunity to experience the Native American style flute and its rich heritage.
Lydia Russell, 13, in seventh grade at North, is Blackfeet and moved from Heart Butte to Great Falls. She said she isn't exposed to her culture as much here, so her mother is encouraging her to learn the flute and participate in the Indigenous Club.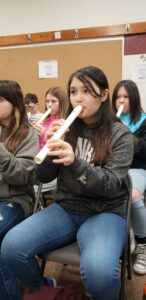 "I do like the way it sounds," she said of the flute. "I'd really like to be able to play a Native song. And it's interesting to learn about the flute in our history."
The students start learning with PVC pipes modified to mimic flutes which provides an affordable and accessible introduction for new learners. Those who choose to keep playing will eventually get the opportunity to use more traditional wood flutes.
Indigenous high school students at Paris Gibson Education Center (PGEC) are putting final touches on 25 traditional flutes crafted from fragrant cedar, under the direction of Curtis Valladolid. Once assembled, glued, sanded, and oiled, art students will use a 3D burner to imprint traditional images on the instruments.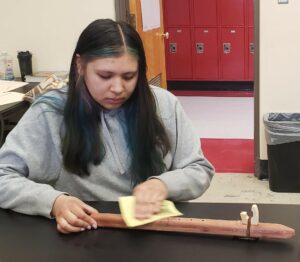 "Working on the flute is a way to embrace my culture," said PGEC student Sharon HeavyGun, 17, who can trace her lineage to Blackfeet, Chippewa Cree, Sioux and Crow tribes. "This is how I become a knowledge-keeper, and it will be important to share what we are learning to keep the culture alive." She both sands a flute and shows others how notes are played.
It is uncertain when or where the flute became part of Indigenous culture, said TJ IronBear, who is spearheading the project at the middle school level through the Indigenous Education Department. He said flutes were traditionally made of materials easily accessible to different tribes. In some areas, they may have been formed from hollow reeds; in other areas, they may have been crafted from bird bones, clay or wood. IronBear said flutes were traditionally a solo instrument because each was made and tuned separately.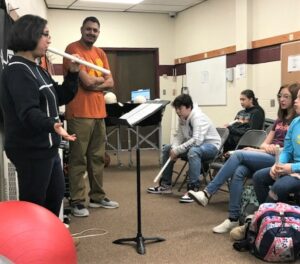 "One in seven students in our schools is Native American," said Stephanie Schnider, GFPS Foundation executive director. "We are grateful to Candice English and Sisters United for the generous gift that allows these students to more deeply explore their culture and share it with students of different backgrounds."
Middle school students are learning to play the flutes under the direction of Millie Rios Abam, who traces her own origins to the Mayan people. Dugan Coburn, director of the Indigenous Education Department, said as students continue to progress on the flutes, they may be able to play them as part of a community powwow in May.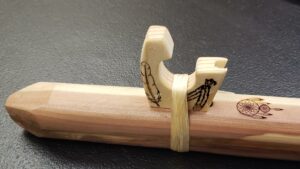 To learn more about programs offered by the GFPS Foundation or to donate click https://gfpsfoundation.org/to visit our website.