The Sisters United Initiative
Candice English has social conscious, deep creativity and strong business skills. She drew on them all to create the new Sisters United Scholarship.
Candice is the founder and owner of The Farmers Daughter Fibers, a Great Falls-based business that hand dyes lushly colored and textured yarns. She has a small retail shop, but most of her seven employees are busy dyeing and shipping fibers to retail and wholesale customers across the country.
She sees the business as not only a way to make a living, but also to make a difference.
Candice spent her early years growing up on farm and ranch near Cut Bank, where her grandmother introduced her to the fiber arts of knitting, crocheting, and sewing. Her mother, a member of the Blackfeet tribe, instilled in her a deep connection to the earth and her native heritage.
After years of working in early childhood care and education, Candice couldn't see a path for growth.  She drew on her passions of dyeing yarn and knitting to start The Farmers Daughter Fibers. "I started with plant dyes with a goal to make yarns that were both unique and marketable," she said.
She initially worked from her basement, where she did all the dyeing, then hauled her goods to the farmer's market for sale. She quickly outgrew both. Convincing her husband to join the business, they converted an old building next to the Columbus Center into a dye studio and retail shop.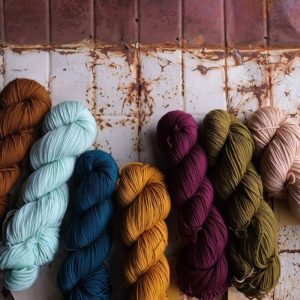 As her business developed, so did her unease about the increasing stories of missing and murdered Indigenous women.  "I kept thinking if I don't do something, who will?" she said.  She also knew she was surrounded by a large community of yarn artists who may be willing to help.
In February, she formed the Sisters United Initiative.  Now yarn enthusiasts and others from all over the country raise money for organizations that support Native American women.  They donate patterns, needles and other accessories, which Candice packages into baskets with a selection of yarn.  About 50 baskets are made each month and sold online.  All proceeds go to Sisters United.
Candice is a firm believer in the value of education, and this fall worked with the Great Falls Public Schools Foundation to establish the Sisters United Scholarship. It will award $5,000 each year to a graduating senior from a Great Falls high school. It is open to enrolled tribal members or descendant of a Montana tribe. The scholarship may be renewable if the recipient maintains a 2.7 grade point average.
"I want the scholarship to be attainable," she said. "A lot of young people fall through the cracks.  They have to put some effort into this, but if they're not quite there, that's OK.  This is all about making progress."
The scholarship is in honor of Ashley Heavy Runner and Jermaine Charlo, both young indigenous women who have been missing since 2016.  The scholarship is now open for applications and is available on the Foundation web site: https://gfpsfoundation.org/scholarships
Candice said it's been heartwarming to see the fiber community step up to support Sisters United.  "It's really something how much people wanted to get together to give and how excited they are about it," she said.  "Native issues don't get a lot of attention, but people really do want to help."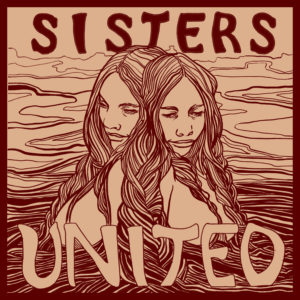 With the scholarship in place, she's starting a new project.  Sisters United is soliciting donations for healing bundles – small packages that will be given to Indigenous women who've survived rape, abuse or other trauma.  "I see these problems out there, and I just feel compelled to do whatever I can," she said.
Links: https://gfpsfoundation.org/scholarships
https://thefarmersdaughterfibers.com/