(Photo: Stella and Phil Palm, Palm Scholarship recipient Jose Rodriguez, his mother Maria Cardenas and brother James Schmidt)
RELEASE DATE: November 10, 2022 – As winter progresses, many high school seniors are busy applying for college scholarships. Numerous scholarships are available to local students, often created by individuals or families grateful for their own education. Some call it "paying it forward," while others call it "giving back."  In all cases, it's a demonstration of generosity and commitment to the next generation.  And sometimes it ripples across the years.
Take the case of Jose Rodriguez. He came to Great Falls with his mother from South America when he was 11. He and his brother were raised by their single mom, and he would sit quietly beside her when she attended classes. It was first-hand experience about the importance of hard work and education.  Jose became determined to go to college, tough as that would be financially.
During his senior year of high school, he worked with his counselor at Great Falls High, Al Getten, to apply for scholarships. He was delighted to be the first recipient of the Phil and Stella Palm Scholarship, contributed by a local couple. That was 1995. "I was very, very fortunate," he said. "The scholarship was for a full ride to an in-state college."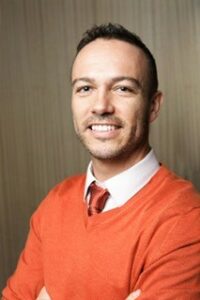 Jose went to Montana State University, where he graduated with a bachelor's degree in business and a master's in accounting. He went on to spend 10 years in public accounting with one of the Big Four accounting firms, Ernst & Young. He now works as a chief financial officer with business startups in the Bay Area.
"The scholarship made a huge difference; it removed the tremendous burden of how to pay for college," he said. Even more than the money, however, he appreciated the connection he developed with the Phil and Stella Palm.
"They were such amazing people. They checked in on me and even attended my wedding," he said. "I really did not want to let them down."
After they died, Jose wanted to both honor the couple and pay forward their generosity. He established the Palm Appreciation Scholarship, which is managed by the GFPS Foundation. "The Palms made a big impact on me," he said. "This is a way to say thank you to them. It's the least I could do."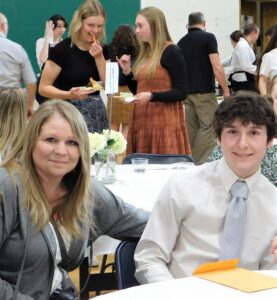 Cindy James, daughter of Phil and Stella Palm, said they gave the full-ride scholarship to a Great Falls High student yearly for about 20 years. She said her parents kept in touch with several recipients but delighted in their relationship with Jose.
"My parents just wanted to give students an opportunity to attend college without going into debt," she said. "They didn't have to be A students, they wanted it to go to someone who really wanted a chance and needed the help."
Cindy said she's been deeply touched by Jose's scholarship in honor of her parents. "You talk about paying it forward – that's exactly what this is. It can change lives."
Cindy and her husband Bob, known by many in the community for their work helping establish the Maclean-Cameron Animal Adoption Center and the dog park, also "gave back" to the education community. They were instrumental in helping fundraise for the state-of-the-art accessible playground at Meadowlark Elementary School.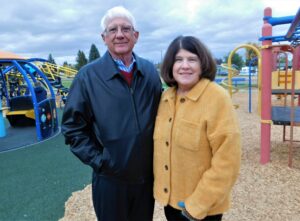 Recently, Cindy was informed that some legacy funds still existed in her parents' scholarship account. It seemed only appropriate to her and Bob that those funds be channeled back to the Palm Appreciation Scholarship that Jose continues to support. Cindy knows that her parents would be happy to see the connection continuing on in this way.
"Every scholarship has a story behind it," said Stephanie Schnider, the Foundation's executive director.  "They can be about honoring someone, showing gratitude or giving back. All of them touch more lives and give more opportunity."
More than 100 scholarships are administered by the Great Falls Public Schools Foundation, which helps donors make the most of their gifts. Nine new scholarships were added this year. The Palm Appreciation Scholarship is among the many on high school students' radars this fall.
As with the scholarship he received, Jose set it up for a Great Falls High senior. His scholarship provides $2,000 in assistance. The 2022 recipients of the Palm Appreciation Scholarship were Great Falls High graduates Myra Duncklee and Cody McDaniel.
In addition to the more standard criteria, Jose added one special requirement for the Palm Appreciation Scholarship recipient: "Must exhibit the pay-it-forward attitude."
The Foundation's Fall Scholarship application session is going on now. Applications are accepted until November 15th. The winter application session opens January 1, 2023. Different scholarships are offered in each session. Visit here to review scholarship requirements and to apply.