RELEASE DATE: November 3, 2022 – The Foundation held a celebration of the Win This Truck raffle fundraiser at the City Motors Toyota Showroom on Wednesday, November 2nd. There, student groups received their fundraising checks and a lucky raffle winner walked away with the $1,000 North40 gift card while the other winner received the keys to the new Toyota Tacoma.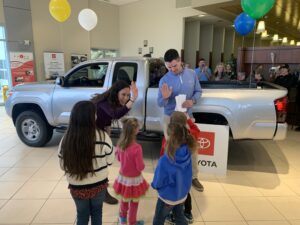 "This celebration at City Motors is something we look forward to every year. It is a great opportunity to thank the Oakland family for their continued commitment and all the students and teachers who work so hard to make this fundraiser successful. We are humbled to play our part in this community effort for education," said GFPS Foundation Executive Director Stephanie Schnider.
This year 14,940 Win This Truck raffle tickets were sold, raising $149,400, the second highest selling year ever! Student groups sell tickets for $10 each. The group keeps $6 per ticket to use as it pleases; the remaining $4 goes to the Foundation for classroom grants. Every dollar spent on a ticket stays in the community and benefits Great Falls schools and students. That has meant money for everything from field trips and new science equipment to sports gear and playground equipment.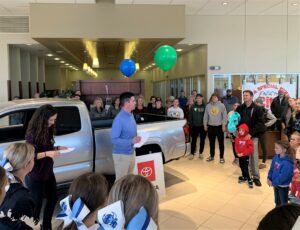 Great Falls High Men's Soccer sold tickets to earn funds for equipment and services to record their games and review film. They raised almost $3,000 towards their goal. Sacajawea Elementary PTA raised over $2,500 to go towards their plans for an inclusive playground, and CMR BPA & DECA raised over $500 to help pay for travel to national competitions.
This year's number one selling group is CMR Girls Soccer with 836 tickets sold, followed by CMR Football at 833 tickets, only a three-ticket difference. Third place goes to GFH Football (816), fourth place is CMR Drama (812), and fifth place is GFH Cheer (700). A great showing comes from North (697) and East (628) Middle Schools' music programs, who are sixth and seventh place winners respectively. Rounding out the top ten are GFH Cross Country (620), GFH Golf (552) and CMR Cheer (514).
Forty-eight organizations, PTAs, and business outlets sold tickets to raise funds this year. Mountain View Elementary PTA claimed the top selling PTA honors with 509 tickets sold.
In a partnership now spanning a decade, the City Motors Company and Oakland Family have teamed with the Great Falls Public Schools Foundation to raffle a donated Toyota vehicle each year. Since we started in 2013, City Motors has contributed over $275,000 combined to cover the cost of the vehicles each year. The community has chipped in to more than quadruple their investment, raising $1.2 million for student groups and our grant programs. Thanks also to North40 who has contributed to this fundraiser since 2016. We know that their participation is the main driver for many raffle ticket buyers.
The winning tickets were drawn at the Crosstown Football Game on Oct. 21. Great Falls resident Tammy Dues, No. 14721, won the new Toyota Tacoma truck. She purchased her ticket from the Great Falls High School Golf.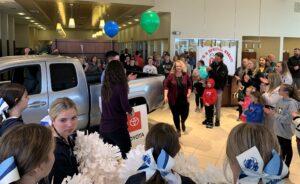 Victoria Hunt, No. 21023 won the $1,000 North40 gift certificate. She purchased her ticket from CMR Cross Country.
Thank you to everyone who made this year's raffle a huge success.