RELEASE DATE: November 22, 2021 – Riverview Elementary PTA is putting its truck raffle earnings into new playground equipment; the Great Falls High football team will purchase new equipment and pay athletic camp fees for students who cannot afford them; and Valley View PTA will purchase a school reader board.  These represent just a sampling of the projects that are being funded by Great Falls Public Schools (GFPS) Foundation Win This Truck Raffle.The new Toyota Tacoma pickup, valued at $31,000, was donated by City Motor Company and the Oakland family, along with a $1,000 gift certificate donated by North40 Outfitters. From July through October, tickets sell for $10 with a 60/40 split. For every ticket a group sells, $6 goes directly back to their program.
"CMR Drama/Stagecraft will use the funds to continue bringing the best quality tools and technical equipment to our students to keep increasing the quality and overall look and feel of our productions," said Chris Evans, CMR's drama teacher.
According to Ellen Forslund of North Middle School, the music department will use the proceeds to fund instrument coaches for band and orchestra, clinics, private lesson scholarships, and classroom resources such as instruments, supplies, and performance uniforms.
Steve Skaer, CMR Girls' Soccer coach will purchase new uniforms and travel bags. "In the past the JV team has used old varsity uniforms as the varsity gets new uniforms," he said. "I want all players to have the same uniforms."
In addition to providing a great fundraising opportunity for school groups, the annual raffle also funds teacher grants for new teaching tools, classroom equipment, guest speakers, and field trips.
This year's sales efforts resulted in a record-setting $161,000. This beats the previous record set in 2019 of $135,840. Since its launch in 2013, the raffle has raised over $1.1 million to support Great Falls schools and programs.
"We are ecstatic about the results of this year's truck raffle. Thanks to all the school groups, teams, and outlets who worked so hard to sell tickets. All of the funds go back into education in our community which is a win-win for everyone," said GFPS Foundation Executive Director Stephanie Schnider.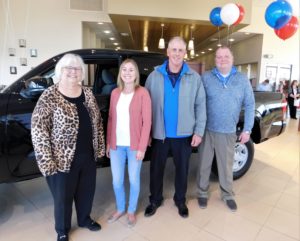 The winning tickets were drawn at the Crosstown Football Game on Oct. 22. Great Falls Police Chief Jeff Newton won the new Toyota Tacoma truck, and Claude Isaacs won the $1,000 North40 gift certificate. Both winners purchased tickets from the Great Falls High School Football team.
  PHOTO: The Oakland Family is joined by Jeff Newton to claim his Toyota Tacoma.
Top PHOTO: GFHS Cross-Country Team collects a fundraising check for selling tickets.