RELEASE DATE: October 3, 2023 – As you read this, Great Falls High School science teacher Amber Lloyd is deep in the heart of Nepal, hiking toward a high mountain peak, and gaining insights into human biology, geography and sociology to share with her students and other teachers and community members.
Lloyd was invited by the Masters of Science in Science Education (MSSE) program at Montana State University to participate in the two-week program for the intensive – and strenuous – science-based expedition.  Her costs are covered by a special grant from the Great Falls Public Schools Foundation for immersive teacher training.
"The day after I learned about the grant program last year, I was invited to participate in the Nepal trip," she said.  "I love the outdoors and do a lot of hiking, so it seemed like it was meant to be.  But I doubt I would even have considered it without the support from the Foundation."
With the nearly $10,000 grant approved, Lloyd dove into training.  She hit the gym in the mornings, then used the summer for hiking and backpacking – including higher-elevation hikes while visiting Colorado.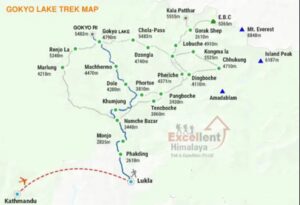 After flying to Kathmandu late last week, her team traveled to the starting point of Lukla – with an elevation of 8,500, a bit higher than either Sherburne Peak or Swiftcurrent Mountain in Glacier National Park.  They began their trek on the same route as those who climb Mount Everest before the paths diverge and the teachers head to Gokyo Ri.  They will summit that 18,000-foot peak as part of their expedition.
A 2004 graduate of Great Falls High herself, Lloyd did undergraduate work in Oklahoma (where she met her now-husband Joe Lloyd, a math teacher at GFH) before she completed the MSSE program.  She is currently in her ninth year at GFH, where she teaches biology, honors human anatomy and physiology, and oversees HOSA, the student organization for future health professionals.
Including MSU professors, there are 17 people in the Nepal group.  Most are science teachers, while a couple are graduate students.  They have been meeting on Zoom the past six months to discuss preparations for the trip and how they can make it meaningful for their students when they return.
During the trek they will also visit local schools, meet students, and learn about life and education in the region.  Each participant will conduct experiments or work on lessons that can be shared with their fellow teachers.  Lloyd is bringing a blood pressure monitor and pulse oximeter to monitor biometrics of those on the trek and teach about her findings.
"We are so excited for Amber and proud that we can offer the opportunity for her to be part of this extraordinary expedition," said Stephanie Becker, executive director of the Foundation.  "We wish her a safe journey and look forward to the information and stories she will share with students and teachers."
Becker said this opportunity was made possible through a donation from the Robbins de Beaumont Foundation to the Great Falls Public Schools Foundation.  These funds were given with the specific mandate that they be used for immersive learning experiences for teachers.  Lloyd's Nepal trek was one of three grants approved for this year.
Come Sunday, give a thought to Lloyd, who that day is expecting to make the strenuous climb up Gokyo Ri.  "This is a once-in-a-lifetime opportunity," she said as she prepared to depart.  "I am so grateful to the Foundation and the donors."
To learn more about the Foundation and all its programs, visit our website here.