Never doubt that a small group of thoughtful, committed citizens can change the world; indeed, it's the only thing that ever has.—Margaret Mead
In 2011 three community leaders were nominated to serve on the founding board of directors for the newly formed Great Falls Public Schools Foundation. These three women accepted the challenge and dedicated their time, talent, and resources to enhancing education in Great Falls. They served on the Foundation Board for nine years each contributing a combined 27 years of their keen insight which has been so important in making this Foundation a success. As their terms of board service come to an end, we want to share with you a little about these incredible women.
The Foundation would like to recognize their invaluable service to the board and to improving teaching and learning in our public schools.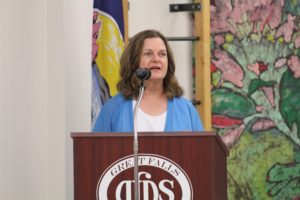 Linda Caricaburu: A mother, business owner, retired newspaper editor, and former board chair.
Linda committed her efforts to making the public aware of the new Foundation and over the years has helped to make our work known and respected throughout the community. Nine years ago, she worked to create the annual report and promotional publication for the Excellence in Education program; today it is one of the best in Montana! She was instrumental in helping to establish our social media platforms and website. Linda received the biggest surprise birthday gift when her husband, Brad Talcott, enhanced the Giant Springs Elementary school media center with a donation in her honor.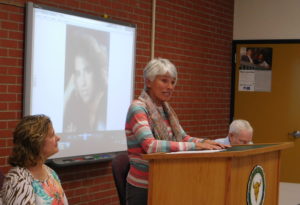 Gerry Jennings: A mother, grandmother and fierce supporter of public education.
Gerry has worked to make public education better all of her life. The Foundation benefitted from her guidance of the scholarship and program committees. Gerry's goals were to make sure students and teachers had opportunities to get post-secondary education through scholarships and teacher grants. The Foundation currently oversees 80 scholarships and makes grants available to teachers for innovative classroom efforts. She knew this would strengthen classroom education, and it has. She is an outstanding fundraiser whether she is making donations, soliciting family members or selling Win This Truck raffle tickets. Many people have said, "I can't say no to Gerry".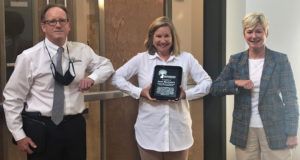 Anne Martinez: A mother, former Great Falls Public School trustee and community leader.
Prior to joining the Foundation's board, Anne was already committed to public education and served on the GFPS board as trustee between 2004 and 2007. While donating her time to the Foundation, Anne chaired or served on the important Innovation and Discovery Grants committees; evaluating, awarding, and overseeing grants for teachers. In 2016 she advocated for and chaired the committee that awarded "The Dream Big" grant. That project, our largest grant to date, served every GFH freshmen and gathered teachers in English, math, history and science to collaborate on a $100,000 program.
Their commitment to the Foundation is impressive and much appreciated by the other Foundation board members and GFPS teachers and students.
*don't forget to purchase your truck raffle tickets here: https://donorbox.org/truck-raffle. Online sales end October 14!