BACK IN THE 1920s, the Ford Building in downtown Great Falls housed several business offices including those of dentist Dr. Roy Severance, attorney A.H. Gray and stockbroker David Adams Davidson. It's unknown how well these men knew each other, but a century later their descendants came together in a project to benefit Great Falls kids.
"It's like a full-circle," said Doug Grey of the three families. "We assume our grandparents had at least social or professional relationships. Now two generations later we've joined together once again."
That 100-year circle resulted in the first-ever fully accessible playground in Great Falls, constructed at the new Longfellow Elementary School with donations to the Great Falls Public Schools Foundation of $350,000.
The effort was coordinated by Jeff Gray, a Foundation board member as well as a school board trustee. When he heard the need for an accessible playground – which means it can be used by children of all abilities and disabilities – he reached out to Rich and Doug Grey. Jeff's attorney grandfather and Rich and Doug's dentist grandfather were among those from the old Ford Building. Their families have both had cabins on Logging Creek since the 1920s, and though the Greys lived out of state, the boys spent many happy summers together in the mountains.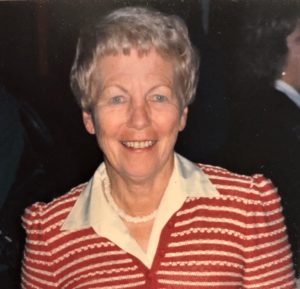 JEFF ASKED IF THE GREY FAMILY FOUNDATION might help with the playground project. Rich and Doug agreed the project would be a wonderful way to honor the memory of their mother, Margaret Severance Grey. The daughter of dentist Roy Severance, Margaret was one of four children, a Great Falls High School athlete and all-state tennis player. Regrettably, she died last August.
"Mom was very athletic and earned her degree in health and physical education from Stanford," Doug said. "She knew the importance of staying active, and this playground project seemed like the perfect fit."
The Grey Family Foundation committed $200,000 to the project, but also wanted a community partner to participate. The D.A. Davidson Companies stepped up with a $150,000 gift. The company was founded by David A. Davidson, the third connection from the old Ford Building.
"HAVING THE DAVIDSON COMPANIES JOIN US made for the perfect community partner. This project is all about connections: The Ford Building, education, athletics and friendships that span generations. This couldn't have worked better," Doug said.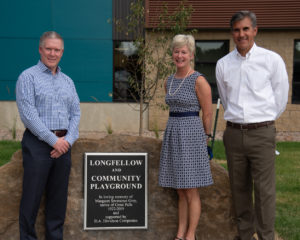 Andrew Davidson, grandson of David and current president of Davidson Investment Advisors in Great Falls, agrees. "When Jeff introduced us to the Greys and said they needed a community partner, it felt very natural," he said. "With the history of our families, and knowing that the D.A. Davidson Companies wanted to support an education project that would benefit the whole community, it made it easy to go to the company for a donation."
Karen Brandvold, senior vice president at D.A. Davidson, said the company saw the playground project as a perfect opportunity to provide funding for items not covered by the voter-approved bond issue.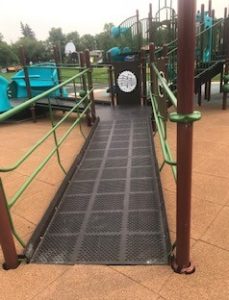 "It's such a special project as it's the only inclusive playground in our community," she said. "We appreciate the opportunity to join together with the Grey Family Foundation as this was one of the larger building enhancement projects, and the combined history of the Davidson and Grey families made it even more compelling."
GFPSF Board member Jeff Gray said his role was simply to bring people together. "You never know where connections might be made, but it's an absolute privilege to work with these families on such an outstanding project. The common theme is we all have roots in Montana and care about Great Falls."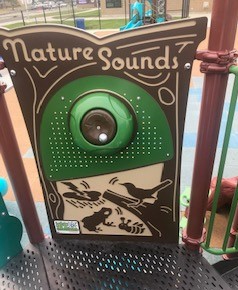 THE STATE OF THE ART PLAYGROUND is specially constructed with rubber tiles in lieu of hard surface paving, as well as play structures designed with ramps and easy accessibility for children of all abilities. The new Longfellow school was designed to accommodate a larger number of children with special needs and will be home to students from across the east side of town. The playground will get heavy use from students starting this week, but will also be open to any child in the community.
"The playground is the first of its kind in Great Falls and one of the few in Montana," said Dave Crum, GFPS Foundation Executive Director. "The contributions of the Grey Family and the Davidson Companies were critical to this project. And we appreciate Jeff Gray's help in making it happen."