RELEASE DATE: April 29, 2021 — Teacher Appreciation Week is next week, May 3 – 7. If you're grateful to any teachers for the work they've done in a tough year, consider letting them know. We can help!
The Great Falls Public Schools Foundation's Gold Star Awards are a way for parents, grandparents or anyone in the community to recognize teachers and school staff members who've made a positive impact. Those wishing to honor the educator can make a donation of any amount to the Foundation, then the teacher is presented a special card and recognition in front of his or her class and school principal.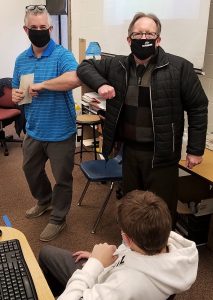 All proceeds go to Teacher Grants for innovative teaching experiences or equipment used in the classroom or in the field. This year our grant program awarded almost $121,000 for 32 teacher-led projects.
Parent Wende Curry honored Great Falls High School teacher Tracy Milton with a Gold Star Award when she saw how hard Tracy worked in helping BPA (Business Professionals of America) students. Tracy is the advisor for BPA, a club that helps students develop business skills and become involved in the local business community. Wende's son Taylor was a BPA member and competed in BPA competitions.
"Tracy always went the extra mile. She found ways to get things done and really help the kids learn and gain experience," Wende said. The Gold Star Award allowed her to express her thanks.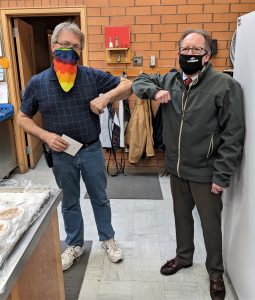 "I think by honoring teachers, we can expand the community's recognition of what goes on in school classrooms," she said.
Gold Star Awards are handed out in front of students, which teaches them not only that good work can be rewarded, but also that it makes someone feel good to say "thank you." Gold Stars often go to teachers, but they can go to any school district employee – a counselor, a custodian, a principal or a lunch lady – who has made a special effort or stepped up when most needed.
In addition to Gold Stars, the Foundation is partnering with First Interstate Bank to make Teacher Appreciation Week extra special this year. Thanks to First Interstate Bank's financial contribution, the Foundation issued each elementary and middle school PTA a check for $100. This funding is intended to support the PTA's efforts for teacher appreciation.
If you'd like a Gold Star presented to a school employee, you can complete the form that was sent home in last week's Wednesday envelopes or go HERE to complete it online. You can do it for Teacher Appreciation Week or any other time of the year. We are happy to deliver Gold Star Awards year-round.