Sam's Hope Foundation Scholarship
Sam was born March 8, 1995, in Great Falls, where he lived his entire life. He attended Sunnyside Elementary, East Middle School, and Great Falls High. He delivered the Consumers Press for eight years growing up, was a member of Boy Scouts Troop 8, and served as an altar boy at Immaculate Heart of Mary Catholic Church.
He enjoyed hunting, fishing, camping, going to the family cabin in Lincoln, riding his four-wheeler, and snowmobiling. He was an avid Oakland Raiders fan. Sam enjoyed playing basketball and football. He treasured the time he got to spend with his family and friends.
When he entered the ninth grade he began having difficulty walking. He was eventually diagnosed with a very rare form of cancer called alveolar rhabdomyosarcoma. After a valiant two-year battle, he succumbed to his illness on September 26, 2011.
Scholarship Requirements:
1. Must be a GFH graduating senior.
2. Must have a cumulative GPA of 3.0 at the end of seven semesters.
3. Must be active in sports.
4. Must show need of financial assistance.
5. Must be admitted, or have applied for admission, to a Montana College or University.
6. Note: This scholarship is to be paid upon completion of the first quarter of college.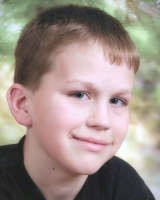 Donate A One Time Or Ongoing Scholarship For High School Graduates
Setting up an educational scholarship fund can be a meaningful way to give back to your community or to honor a loved one. There are a number of things to consider when planning a scholarship. Please contact the Foundation for assistance, we are happy to help you. Contact Stephanie Becker at [email protected] or call (406) 268-6021.