My Best Day 5k & Kids Dash
This race is pending due to COVID-19 Virus restrictions. Please check back
When: Sunday, September 15th, 2019
T-shirt Deadline: August 30th
1:30 to 2:45 Registration/Packet Pickup
2:45 to 2:55 National Anthem and America the Beautiful
2:55 to 3:05 Warm-ups
3:05 to 4:15 5K Race
4:15 to 4:30 Kids Dash
4:00 to 6:00 Beverages at Big Mouth BBQ/The Front parking lot
About The Event
My Best Day 5k and Kids Dash is a fundraiser for the Jake Arntson Memorial Fund. Please join us as we celebrate the memory of a boy that was a light to not only his family, but everyone that knew him. All monies raised will go to the Jake Arntson Memorial Fund through the Great Falls Public Schools Foundation, which will fund the Jake Arntson Teammate of the Year Scholarship. These scholarships will be awarded to three C.M. Russell and three Great Falls High School student-athletes that demonstrate the qualities of an exceptional teammate in their sport. There are as many walkers as runners, all are welcome.
Packet Pick-up
Sunday, September 15th, 1:30 to 2:45 p.m. at Big Mouth BBQ/The Front, 201 3rd Street Northwest, Great Falls.
My Best Day Course
Participants will start on the River's Edge Trail behind The Front/Staybridge Inn & Suites running towards to federal courthouse. You will take a left onto the Central Avenue walking bridge. At the end of the bridge, take a left onto River's Edge Trail heading towards Gibson Park. You will cross River Road at the designated spot, which will be manned. You will run under the railroad overpass and take a right into Gibson Park heading towards the Children's Museum. Continue running around the loop towards the pond. Take a right out of Gibson Park to head back under the railroad overpass and head back the way you came. There will be water/aid station at the half-way point.
Kids Dash
The kids get an opportunity to show their stuff. At the finish of the 5k there will be a course set up for the kids. They have two options: one lap or two laps. The kids can do either one or both. There will be a chance to win a bike.
IF YOU ARE A COACH, PLAYER, OR FAMILY MEMBER OF A STUDENT-ATHLETE, GET $5.00 FOR EVERY REGISTRATION FOR YOUR TEAM. JUST CIRCLE YOUR ORGAINZATION'S NAME ON THE BOTTOM OF REGISTRATION FORM, AND WE WILL GIVE YOUR TEAM $5.00 FOR EACH REGISTRANT.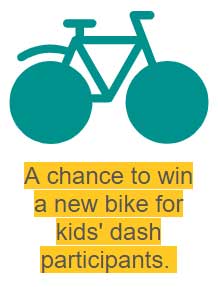 Contact:
Jason Bliss
406-855-5112
jbliss@spfenergy.com
Joanie Agamenoni
406-781-7739
joanie.agamenoni@gmail.com
Jake Arntson Teammate of The Year Scholarship Winners
| School/Class | | | | |
| --- | --- | --- | --- | --- |
| GFHS 2019 | Hadlee Bleskin | Ryan Munsterteiger | Luke Wyman | Kylee Stoll |
| CMR 2019 | Josephine "JJ" Slater | Kellen Hartman | Carter Carroll | Josephine "JJ" Slater |
| CMR 2018 | Annabella Aline | Jake Wilkens | Morgan Duncan | MacKenzie George |
| GFHS 2018 | Erin Hocker | Jacob Baroch | Erin Hocker | Teagan Olson |
| CMR 2017 | Mady Skawinski | Mady Skawinski | Katherine Onstad | Tristin Achenbach |
Support The Future Of Education Through Community Leadership & Philanthropy
The Great Falls Public Schools Foundation partners with local business leaders and companies to make a difference in the lives of students. To discuss how your organization can help, contact the Foundation at (406) 268-7340 or Dave-Crum@gfps.k12.mt.us.