My Best Day 5k & Kids Dash
Great Falls, Montana, The Peak West Bank Landing
Sunday, September 12th, 2021
11:30AM to 12:45PM - Registration/Packet Pickup
12:45PM to 12:55PM - National Anthem and America the Beautiful
12:55PM to 1:10PM - Warm-ups and Walk down Angel Ave to Start
1:10PM to 2:30PM - 5K Race
2:30PM to 3:00PM - Kids' Dash
3:00PM - Beverages at MT Pints
About The Event
My Best Day 5k and Kids Dash is a fundraiser for the Jake Arntson Memorial Fund.  Please join us as we celebrate the life and memory of Jake, as well as other local children and adults that have left us too soon.  As we honor these families with loved ones on Angel Avenue, we are raising funds for the Jake Arntson Teammate of the Year Scholarships.  These scholarships are awarded to CMR, GFHS and now GF Central student-athletes that have displayed the qualities of being the best teammate.  There are as many walkers as runners, all are welcome.
Packet Pick-up
Sunday, September 12th, 2021, at The Peak West Bank Landing, 401 3rd Street Northwest, Great Falls.
My Best Day Course
NEW COURSE – all on the River's Edge Trail, loop around the river.  Participants will stage at The Peak West Bank Landing and walk down Angel Avenue to the starting line at the Federal Courthouse.  You will cross over the Central Avenue walking bridge.  At the end of the bridge, take a left onto River's Edge Trail heading towards Gibson Park.  You will cross River Road at the designated spot, which will be manned.  At the skate park, you will continue on the trail towards 9th Street Bridge.  Cross the 9th Street Bridge and turn left to continue on the trail towards West Bank Park to the finish line.  There will be water/aid station at the half-way point.
Kids Dash
The kids get an opportunity to show their stuff. At the finish of the 5k there will be a course set up for the kids. They have two options: one lap or two laps. The kids can do either one or both. There will be a chance to win a bike.
IF YOU ARE A COACH, PLAYER, OR FAMILY MEMBER OF A STUDENT-ATHLETE, GET $5.00 FOR EVERY REGISTRATION FOR YOUR TEAM.  JUST CIRCLE YOUR ORGANIZATION'S NAME ON THE BOTTOM OF THE REGISTRATION FORM, AND WE WILL GIVE YOUR TEAM $5.00 FOR EACH REGISTRANT.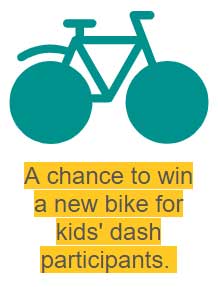 Contact:
Jason Bliss
406-855-5112
jbliss@spfenergy.com
Joanie Agamenoni
406-781-7739
joanie.agamenoni@gmail.com
Jake Arntson Teammate of The Year Scholarship Winners
| School/Class | | | | |
| --- | --- | --- | --- | --- |
| GFHS 2021 | Ryen Palmer-BB | Nathan Kornick-FB | Ryen Palmer-BB | Addison O'Neill-TRK |
| CMR 2021 | Hannah Kittleson-SW | Ciaran Molloy-XC | Hannah Kittleson-SW | Madison George-TN |
| GFHS 2020 | Maggie Bell-SB | Ben Held-FB | Bill Evans-SW | Maggie Bell-SB |
| CMR 2020 | Conner O'Hara-XC | Conner O'Hara-XC | Allie Olsen-BB | Andi Newbrough-TRK |
| GFHS 2019 | Hadlee Bleskin | Ryan Munsterteiger | Luke Wyman | Kylee Stoll |
| CMR 2019 | Josephine "JJ" Slater | Kellen Hartman | Carter Carroll | Josephine "JJ" Slater |
| CMR 2018 | Annabella Aline | Jake Wilkens | Morgan Duncan | MacKenzie George |
| GFHS 2018 | Erin Hocker | Jacob Baroch | Erin Hocker | Teagan Olson |
| CMR 2017 | Mady Skawinski | Mady Skawinski | Katherine Onstad | Tristin Achenbach |
Support The Future Of Education Through Community Leadership & Philanthropy
The Great Falls Public Schools Foundation partners with local business leaders and companies to make a difference in the lives of students. To discuss how your organization can help, contact the Foundation at (406) 268-6021 or stephanie_schnider@gfps.k12.mt.us.