RELEASE DATE: September 9, 2021 — Oftentimes a child first learns about the Holocaust from a textbook or as part of a larger lesson on World War II. But those students who hear actual stories from a Holocaust survivor can gain a much deeper level of understanding and empathy. 
That was the goal of a special grant project that brought a Holocaust survivor to  Great Falls two years ago and culminates this month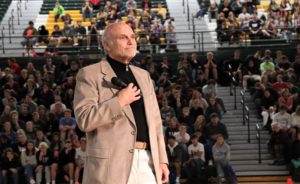 with a student art exhibit at Paris Gibson Square (PGS). The exhibit opens Saturday, Sept. 11 in conjunction with the museum's Arts on Fire event. The display is located on the 2nd floor, room 33 from 10 am to 4 pm.
Funded by a grant from the Great Falls Public Schools Foundation, the project was conceived by retired teacher Carol Shipley and Great Falls High teachers Annie Simkins and Mary Dea. Working with the Holocaust Center for Humanity in Seattle, they arranged to bring Holocaust survivor Peter Metzelaar to Great Falls. 
 Metzelaar, born in Amsterdam in 1935, was seven when Nazis raided his home and seized his family. Only he and his mother were left behind. With help from the Dutch Underground and people willing to risk everything, they survived.  His story detailed hiding with courageous farmers, stealing away to the safety of a cave, and even fooling Nazis into helping them. He spent a day sharing his story with all the middle and high school students in Great Falls, then gave a special presentation to the community at the Mansfield Theater. 
Following the presentation and as part of their history and English classes, the students then participated with the Montana Compassion Project to write about and produce artwork representing what compassion means to them. The artwork includes 520 painted wood tiles, which were mounted and are now on display at PGS.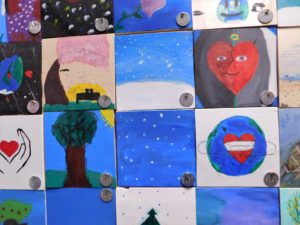 A short film on the project was produced by Great Falls High videography teacher Kelly Wiles and students. This video will also be featured at the museum. It can be viewed here. The exhibit, which was delayed by COVID-19, will be on display at the museum through September. 
"Without the partnership of private donors and the vision of these teachers, this event would not have been possible. We hope that this exhibit draws people into the museum and that it serves as a reminder to each of us of the importance of compassion and solidarity," says Stephanie Schnider, Executive Director for the Great Falls Public Schools Foundation.
This grant project is one of 451 teacher grants that the GFPS Foundation has awarded since 2011. Over $1 million has been disbursed for innovative and creative projects that enhance learning for GFPS students at all grade levels.
 For more information and to hear Metzelaar's full testimony visit https://www.holocaustcenterseattle.org/peter-metzelaar