RELEASE DATE: January 27, 2021 — For Paris Gibson Education Center math teacher Kathryn Heryla, the calculation is simple: Hard work + scholarships = path to success.
A 2016 graduate of C.M. Russell High School, Kathryn relied on scholarships – including two awarded by the Great Falls Public Schools Foundation – to finish college without debt. Now she's working at what she calls her "dream Job" and even thinking about buying a house.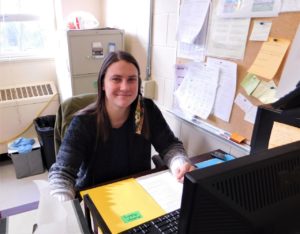 The daughter of John and Dori Heryla, Kathryn attended West Elementary, North Middle School and C.M. Russell High School. "I knew from when I was in middle school that my parents couldn't pay for college, so I would either have to earn scholarships or get big loans," she said.
Calling herself a "math-science person," Kathryn applied herself to tough classes in high school, but also enjoyed learning French and participating in swimming and softball. Her efforts led to her selection as a Distinguished Student in the Foundation's Excellence in Education program. When she graduated in 2016, she went on to be awarded a Montana University System scholarship that waived her tuition for four years if she stayed in Montana.
Through the GFPS Foundation, she also received a four-year scholarship endowed by Bertha Feaster, a 1921 graduate of Great Falls High School and a Frances Kirwin scholarship, established by Nettie Kirwin in memory of her adopted daughter, Frances. These scholarships helped pay for Kathryn's room, board and fees at the University of Montana – costs not covered by the tuition waiver.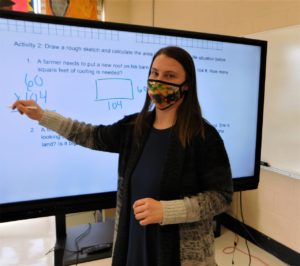 Kathryn graduated from U of M and is currently a first-year teacher. "I am so happy to be at Paris Gibson," she said. "It's an amazing school and a very rewarding place to work." With Covid-19, she's teaching math both in-person and with remote students. She also advises seven students and uses her experience applying for scholarships to help them do the same.
"I wouldn't be where I am without scholarships," she said. "I know lots of people my age who got out of college with mountains of debt. I don't have that stress, and I can even think about buying a house."
The GFPS Foundation administers 80 local scholarships, awarding about $350,000 each year. Hundreds of local students are currently attending college with the help of these gifts. More information about Foundation-managed scholarships is available on the Foundation website at www.gfpsfoundation.org. Or call the Foundation office at 406-268-7340.