Ross Johnson Memorial Scholarship
The Ross Johnson Memorial Scholarship was established to honor Ross Johnson, who exemplified outstanding Bison spirit at Great Falls High School. He was a state champion swimmer, student body president, Boys State governor, athlete representative to U.S.A. Swimming, a National Honor Society Member, and an actor. He always dreamed big, lived wholeheartedly, and thrived fully until he died at 26 years old in 1993.
Scholarship Requirements:
1. Must be a GFHS graduate.
2. Must earn a varsity letter in swimming.
3. Must participate in another extra-curricular activity.
4. Must have a 3.0 cumulative GPA.
5. Must submit two letters of recommendation, one from a teacher and one from a coach/activity sponsor.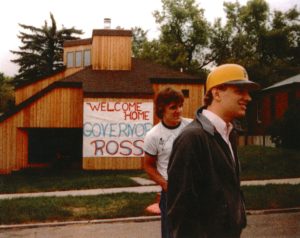 Donate A One Time Or Ongoing Scholarship For High School Graduates
Setting up an educational scholarship fund can be a meaningful way to give back to your community or to honor a loved one. There are a number of things to consider when planning a scholarship. Please contact the Foundation for assistance, we are happy to help you. Contact Stephanie Schnider at stephanie_schnider@gfps.k12.mt.us or call 406-268-6021.