Langevin Family Scholarship
The Langevin Family Scholarship was established in 2001 by Bob and Connie Langevin. Bob originates from Lincoln, Rhode Island, but considers himself a Montanan. Connie is a native Great Falls girl. She graduated from GFHS, as did her father, her siblings, their children, and now the grandchildren are beginning their GFHS experiences. The Langevin's created this scholarship as a way to help further education for the next generation. The Langevin's would like to thank the Great Falls Public School system for educating their entire family. This is a two year scholarship. In order to receive the second year of funding, the student must maintain a 3.0 their first year in college.
Scholarship Requirements:
1. Must be a GFH graduating senior.
2. Must have a cumulative GPA of 3.0 or higher after 7 semesters of high school.
3. The applicant must be admitted, or have applied for admission to a Montana College or University.
4. Scholarship will be awarded in the amount of $600 per year for two years. Student must maintain a 3.0 GPA or better to qualify for second year.
5. The applicant must submit two letters of recommendations: one from a teacher, the other from a community employer or volunteer supervisor.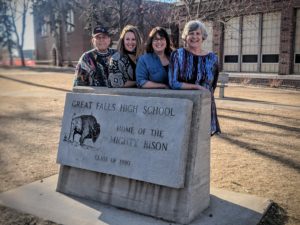 Donate A One Time Or Ongoing Scholarship For High School Graduates
Setting up an educational scholarship fund can be a meaningful way to give back to your community or to honor a loved one. There are a number of things to consider when planning a scholarship. Please contact the Foundation for assistance, we are happy to help you. Contact Stephanie Schnider at stephanie_schnider@gfps.k12.mt.us or call 406-268-6021.