This is what heart looks like:  Coronavirus slams the door on Great Falls Public Schools, and the community immediately steps in to make sure children are fed.
When schools closed in mid-March, the GFPS District immediately set in motion plans to get breakfast and lunch to children who otherwise would eat at school.  But it quickly became apparent the need was far greater.
"Many parents are working poor," said Shannon Guilfoyle, the family engagement liaison at Whittier and Longfellow elementary schools.  "They were maybe just scraping by.  But when the layoffs came, they lost their insurance, their money for rent and a way to put food on the table."
Soon school food pantry shelves across the city were nearly bare.  Once people realized the exceptional need, they came forward in droves.  Families, businesses, individuals and service clubs were showing up at schools with food to donate.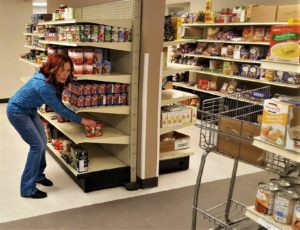 "I had one woman in her 90s drop by with bags of bread and peanut butter," Guilfoyle said. "She figured that even children could make a sandwich, and she didn't want anyone to go hungry."
Even more helpful, she said, were those offering money.  She pointed them to the Great Falls Public Schools Foundation, where funds are gathered and efforts coordinated to fill the pantries.  The Great Falls Community Food Bank offers food for 19 cents per pound to pantries, so dollars go a long way.
"We've had at least 150 people mail or bring in funds to help the pantries," said Dave Crum, GFPS Foundation executive director.  "It's been an amazing show of generosity. And every single dollar will end up as food on the table of a family in need."
Guilfoyle said that between her two schools more than 90 boxes of food are delivered to families each week.  That's on top of the food given out each week when homework packets are collected.  "We're pushing out 2,000 to 3,000 pounds of food every week," she said.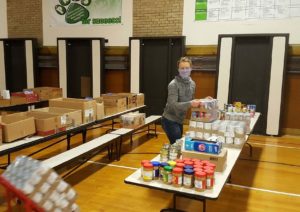 That work is complicated at Longfellow, where students had been attending the former Roosevelt Elementary as their new school is under construction.  Many parents don't have transportation to pick up food or homework.  But community volunteers stepped in to fill that void, too, and deliver boxes to students' homes.
Every public school in Great Falls has a food pantry.  The need is spread across the city, as is the generosity.  All of us at the GFPS Foundation are grateful for the heart shown by our community in this difficult time.
To donate, visit the Foundation website here.